Applying info for instrument studies
In the spring of 2020, entrance exams were organized online.
The results will be published on 10th June. All applicants will receive an e-mail. The new students must confirm their student place by 15th June by replying via link in the e-mail. Unconfirmed student place will be offered to the next applicant on the waiting list.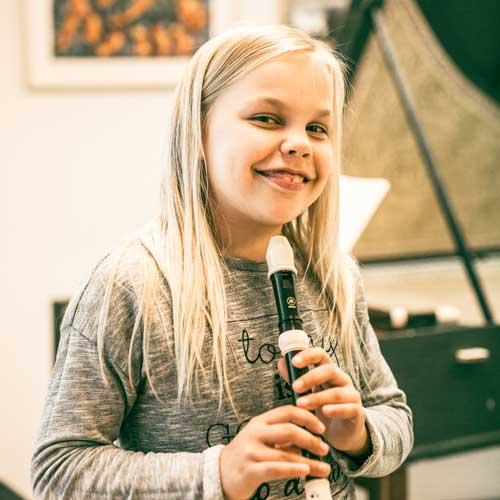 Approximately 100 student places for EMO's basic studies (individual teaching) for various instruments are made available annually. In addition to these, there are about 100 places for learning different instruments in a group (instrument ladders and workshops). These group lessons typically continue for one academic year. The goal of this training is to get to know music playing as a hobby and to make sure that the instrument is suitable for the student. If you are interested in this kind of group training, please mark your interest in the application form, and we can offer a place if there are not enough basic study places for everyone.
A good starting age for many instruments (including strings, piano, recorder) is the preschool year. For some instruments, the best starting age is a little later, about 7-9, due to the size or weight of the instrument. In most cases, however, it makes sense to develop motor skills and the ability to concentrate in music playschool, after which it is easier to start playing music. The typical starting age for those applying for singing (classical singing) is 13-15 years.
The piano is the most popular instrument among applicants and there are only enough available places for about 10-15% of piano applicants. Last year, there were 186 applicants for piano, 19 places available for individual lessons and 27 for piano instrument ladder groups. At the same time, many other instruments are easy to access to practise music. EMO offers active and inspiring orchestral activities, so we encourage you to consider these orchestral instruments as an alternative to the piano: oboe, bassoon, horn, trombone, tuba, baritone horn, viola and double bass. As a player of an orchestral instrument, you can immediately join others to enjoy playing music together in an orchestra. You can get acquainted with different instruments from here.
Among beginners of the most popular instruments (piano and violin), priority is given to the applicants from Espoo. Exceptions are continuing students, who have a special reason to apply for EMO. In other instruments student places can be allocated to nearby applicants, if space permits.
The wide range and quality of EMO's curriculum offer a good start for individual study paths for all kinds of players.
Admission by Order of Arrival. First Come, First Served:
Music Play School 0-6 yr
Rhythmic Training 5 yr – adults
Aluetassu – training (strings) for the students of Matinlahti school, enrollment at the school
Admission through Auditions (groups):
Kameleontti Choirs, auditions in August
trEMOlo, auditions in August
EMO Ensemble, information on the auditions: puheenjohtaja@emoensemble.com