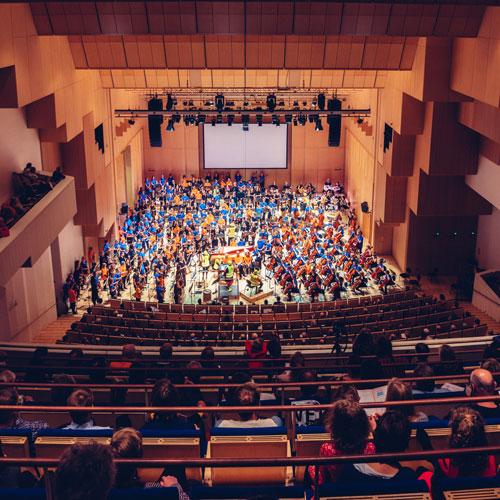 The partnership network between EMO and the City of Espoo covers daycare, schools, festivals, other institutes of arts and many actors in the private sector. Owing to its numerous partnerships, EMO is able to broaden the extent of musical education by enhancing its availability and increasing well-being outside the institute walls. Maintaining parity and equality constitutes a major part of the activity. Partners on both the national and international levels broaden the learning environment and open new viewpoints for the students as well as personnel.
Nursing homes and hospitals
EMO produces over 50 Duurihoito concerts in the nursing homes a year

Daycare

EMO music play schools operate in 19

 daycare facilities
Schools
Aluetassu training in Matinlahti school: strings education for the students

Maininki school: Wind club and Music perception studies for the students

Tapiola school
Music festivals, concerts and courses co-operation in Espoo
Piano Espoo

April Jazz

Vocal Espoo

Kamarihelmi
City events etc.
City of Espoo Independence Day Gala: Tapiola Youth Symphony performances every 3

rd

year

Regular performances of EMO students at the events of the City of Espoo and numerous other events organized in the city
Espoo Cultural center
Kutitus, the arts festival for the children and youth: concerts and workshops at EMO

Music for the events of Espoo Cultural Center
Tapiola Sinfonietta
C

oncert co-operation: for example, concert collaboration with Tapiola Youth Symphony and overtures in the hall before the concert
Tapiola Parish
Häivähdys pyhää: series of daytime concerts in Tapiola church every other Wednesday at noon, and other performances. The programme fee is dedicated to the Common Responsibility campaign
Espoo institutes of arts
Long-time collaboration at the arts events and other projects

Kurkkaa taiteeseen: pedagogical collaboration with Espoo Visual arts school, ESKO Espoo performance arts school and Espoo Dance academy
Tapiola metro station and bus terminal
Playback of peaceful music recorded by the students of EMO may be heard in the Tapiola bus terminal
Organizations and private event organizers
S

tudents perform during different events around the capital region of Finland
 

the whole network of music institutes, Suomen musiikkioppilaitosten liitto (SML)

 

TPO-liitto

 

Finnish National Agency of Education, projects
EMO meets MKZ: pedagogical development project, teacher exchange with Conservatory of Zürich 2018-2020

 

FEsTaRi: Chamber music co-operation with Heino Elleri Music College and Jazepa Medina Rigas 1

st

Music School, annually since 2006

 

Kamarihelmi: February festival in Espoo, EMO students participate in the concerts and workshops by professional European musicians

 

Tapiola Youth Symphony takes regular concert trips abroad every 2 to 4 years. 2018 concert trip took place in Slovenia, 2014 in China
Annual visits to EMO by various delegations of experts, usually referred by the Ministry of Education and Culture or the City of Espoo, for the acquaintance with the Finnish music institute system