Music perception – muha
Music perception studies support one's musical hobby by enhancing the competence of musical literacy and the ability to perceive musical structures. Muha studies consist of workshops that complement the instrument classes. Muha studies are included in the term fee for the basic and advanced studies.
In case free places are available, the students from outside EMO may also apply to participate in the muha groups. Enrollment via Eepos portal in August, at the beginning of the term, the term fee for a muha group is 140€.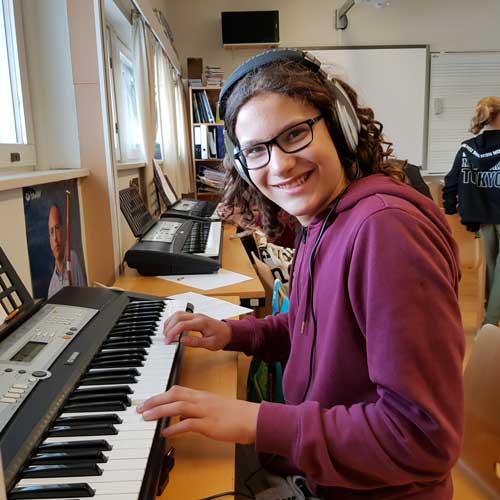 Like instrument studies, muha studies are also divided into basic and advanced studies.
Muha basic studies:
there are 4 muha workshops in one module
beginning at the age of 9-10 or later at the beginning of the studies
participation required for 4-6 academic years
Starting point is Western music of different ages and the repertoire for each student's own instrument
Muha courses for basic studies:
Muha 1: Musical alphabet, often integrated in the instrument group
Muha 2: Music for everyone and creative production
Muha 3: Music for everyone and notation
Muha 4: Altering music and Me
Muha advanced studies:
Soivat soinnut:

muha course of advanced studies 

for everyone, duration 1 term
In addition, the student elects at least one course of 1-term duration from the course selection in Advanced Studies
The advanced courses from the course selection are available through the duration of the studies
Initially, each course lasts for one term, unless stated otherwise
Course selection in advanced studies:
Soivat soinnut (for everyone)
Aural skills and transcription
Music technology
Special skills of an orchestral musician
Harmony
Music analysis of one's own repertoire
Classical music of our time
Concert culture and philosophy of music
History of African-American music
Arrangement/Composition