Projects
Every year EMO hosts various types of projects related to the development of teaching or learning environments, concert activities or corporate welfare.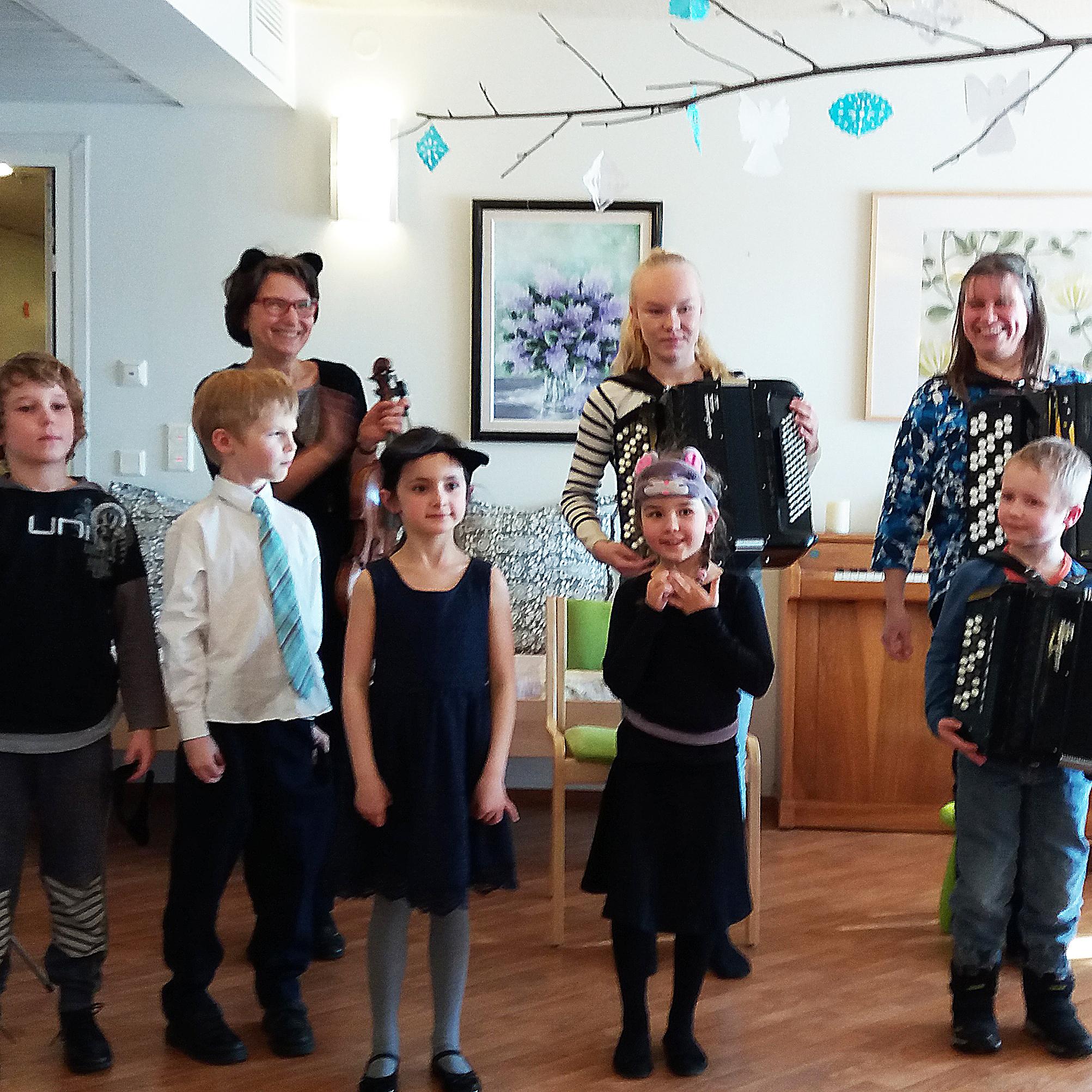 Duurihoitoa – Major Care!
The empowering music of the nursing home concerts brings together several generations. The audience, performers and the assistants all have a chance to enrich their daily routines with new encounters and experiences. The EMO students perform at music sessions tailored to the needs of each nursing home. The program may contain audience-involving acts, such as sing-along sessions.
EMO offers Duurihoitoa concerts in Espoo Service centers such as Puistokartano, Merikartano, Espoonlahti, Soukka, Jänismäki, Huda & Malva, Villa Andante, Hopeakuu, Attendo Olarinpuisto, Service centers for people with memory disorders (Taavi and Vihrelaakso), as well as the home for people with dementia (Villa Tapiola).
A hobby in arts strengthens the values of sustainable development and creates common intellectual capital.
2017-2018
Developing new EMO curriculum
Curriculum (pdf)
2016-2017
New ways to be together: developing the collective musical experience: two large projects were realized during the year: Näppärit and Metro-Grosso as well as FEsTaRi, the chamber music festival in EMO, supported by Finnish National Agency for Education
2014-2015
EMO Winds reboot, supported by Finnish National Agency for Education
2014
EKG project for a strings orchestra together with the Music Institutes of Kirkkonummi and Kauniainen, supported by Finnish National Agency for Education
2013-2014
Project in Musical Perception Studies, together with the Music Institutes of Kirkkonummi and Kauniainen, supported by Finnish National Agency for Education
2013-2014
Project Kamina. EMO joins the project for developing pedagogy in folk music managed by Juvenalia and supported by Finnish National Agency for Education