The More the Merrier!
EMO provides its students with an opportunity to create music together during the whole duration of the studies. The instrument teacher may direct the student towards an orchestra, ensemble or group of suitable level. The orchestra and other ensemble sessions are included in the term fee.
We have strings and winds orchestras for students of different ages and skill levels. The sessions take place regularly, once a week. The program includes classical pieces and modern, entertainment music.
On top of the orchestra stairs we have the flagship of EMO: the full-range symphony orchestra Tapiola Youth Symphony (TNS) that practices and performs periodically under the supervision of professional conductors and orchestral coaches.
Ebeli Big Band is the youth big band of EMO and Ebeli, the pop/jazz department. More information at Ebeli.
EMOn kamut is the folk music ensemble that welcomes students of all ages and instruments to have fun together.
Different smaller groups and chamber music groups are created every year.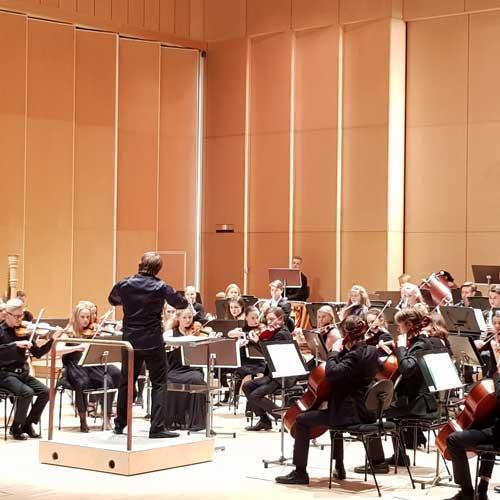 Orchestras 
String orchestras:
Minijouset
• Joukola, Tuesdays 16:30-18:15, led by Maija Alén
Poco a poco
• Joukola, Wednesdays 16:00-17:45, led by Sirkka Kuula
Crescendo
• Joukola, Wednesdays 18:00-20:00, led by Pirkko Simojoki
Wind orchestras:
Intro
• Jousenkaari school, Mondays 16:30-17:30, led by Heidi Hämäläinen
Medium
• Jousenkaari school, Mondays 17:40-18:40, led by Heidi Hämäläinen
Aksentti
• Joukola, Mondays 16:15-18:00, led by Marjo Riihimäki
ENPO
• Joukola, Mondays 18-20:00, led by Marjo Riihimäki
Tapiola Youth Symphony Orchestra
• 3-4 periods a year, conductor Erkki Lasonpalo
• orchestra manager Laura Clewer
Ebeli Big Band
• Ebeli Taivas Wednesdays 18:15-20:15, led by Rasmus Soini
EMOn kamut Folk Music orchestra
• Beethoven Mondays 16:00-17:30, led by Elina Leskelä and Maarit Kyllönen
Periodical orchestras:
• Accordion orchestra, led by Eero Nissinen
• Guitar orchestra, led by Osmo Palmu and Juuso Nieminen
EMO offers diverse opportunities to create music together