EMO Curriculum
The curriculum of the Espoo Music Institute for 1.8.2018 follows the Advanced syllabus of the national core curriculum of elementary education of the arts (2017) set by the Finnish National Agency for Education.
Core of the Curriculum
The core purpose of the curriculum is to support the active role of the student as a learner and to provide guidelines for learning. There is an increasing focus on creative productivity (improvisation and composition) and optional studies, especially when undertaking advanced studies. A weekly individual class under the guidance of a private teacher as well as group music studies in orchestras or small ensembles still hold their important positions. The extent of compulsory music perception studies (previously music theory) has been reduced and the content brought closer to musical practice, playing, and singing. The skill level tests are gone and replaced by several ways of demonstrating one's competence which may be designed according to the personal goals of each student.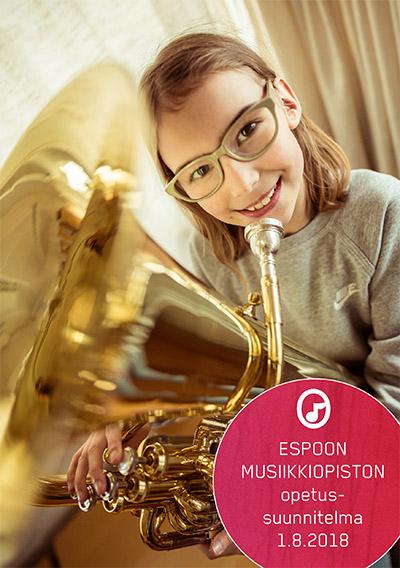 Structure and Scope of the Studies
Preparatory Studies:
Early childhood music education 0-7 yr
Preparatory groups
Preparatory studies provide good basic skills for music studies; however, they are not a prerequisite for applying for elementary studies at the music institute.
Advanced Syllabus of the National Core Curriculum of Basic Education of the Arts (1300 Hours)
consists of basic and advanced music studies, 5 modules altogether

Basic music studies 1-4 (800 hours)
Advanced music studies (500 hours)

every module of the basic music studies (1-4) includes

instrument studies
collective music activities
music perception studies (MUPE)

advanced music studies include

instrument studies
2 courses in music perception
optional studies
final project
Four Core Aspects of the Studies
performance and expression
listening skills and perception of the music
learning to study and practice
composition and improvisation