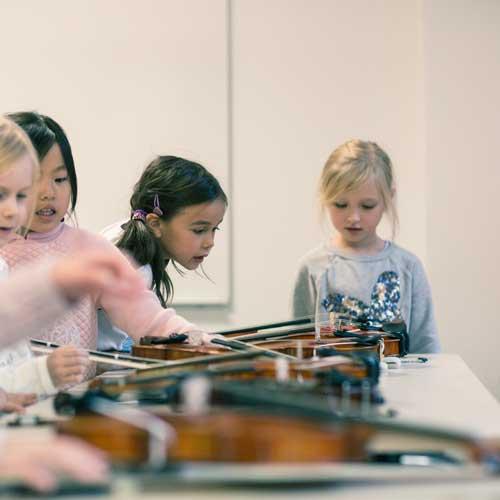 Music ladders in a nutshell
preparatory instrument studies of 1-year duration
run in groups of 6-8 students, 45-60 min/week
instrument selection: violin, viola, piano, guitar, recorder, saxophone, trumpet, trombone
enrollment via EMO casting, applying in April-May
Music Ladders hold up to 80-100 students yearly
opportunity to apply to continue playing within the elementary studies at the music institute, based on the development and motivation shown
term fee 189 €, including the instrument rented (does not concern the piano)
study locations in Tapiola
Music Ladders offer an opportunity to try a hobby in music in a group (6-8 children) for one year. During a weekly class we study the basic music skills with an instrument and enjoy making music together. With an instrument to borrow (doesn't concern keys), the families get experience in practicing at home required by the hobby. During the year we organize concert experience and events.
In case you decide to keep the hobby after the year in Music Ladders, you may apply for the elementary studies in EMO or elsewhere. For the participants of the Music Ladders we have created a path into other forms of arts: dance, theater, circus and visual arts, together with arts institutions of the city of Espoo.
Climb the Music Ladders into the world of music.
Music Ladders groups 2018-2019
Viola
Friday 16:30-17:30, Kellopeli, Opinkuja 2
Guitar, 2 groups
Wednesday between 17-19, Ahertajantie 6 C
Keys
Groups 1 and 3
Tuesday between 16:30-18:00, Ahertajantie 6 C
Groups 2 and 4
Thursday 16:30-18:00, Ahertajantie 6 C
Winds
Group 1: Recorder
Wednesday 17:15-18:00, Ahertajantie 6 C
Group 2: Recorder and Saxophone
Wednesday 18:15-19 Ahertajantie 6 C
Brass: trumpet and trombone (instrument changes at the turn of the year)
Tuesday 17:15-18:00, Tapiola school
Violin and Viola (instrument changes at the turn of the year)
Monday 18-19, Ahertajantie 6 C
Violin
Tuesday 16:15-17:15, Ahertajantie 6 C
Kurkkaa taiteeseen classes with schools in co-operation will be organized for the students of the Music Ladders during spring 2019. Complimentary classes are organized in co-operation with ESKO - Espoo school of performance arts, Espoo visual arts school and Espoo dance institute.