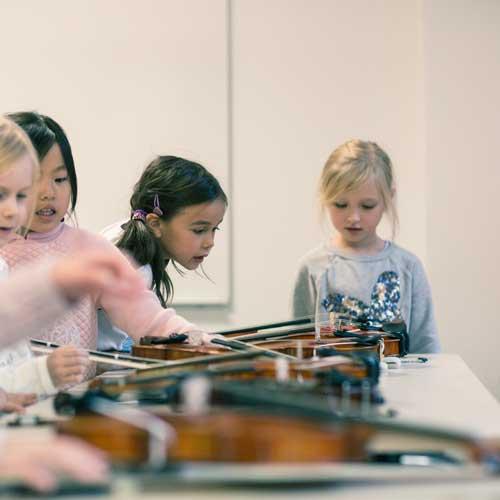 Music ladders in a nutshell
Music ladder is a one-year preparatory instrument teaching, during which you learn about the basics of one instrument and home training, ensure the suitability of the instrument and form an overview of the playing hobby. There are approximately 80-100 places for music ladders every year, and after a year there is an opportunity to apply to continue playing in Music Institute's basic studies based on the progress and the motivation shown.
Tuition fee 200 €, including a rented instrument (not applicable to piano) and teaching locations are in Tapiola.
Teaching takes place in a group of 2-6 students, 30-60 min/ week depending on the instrument including 15 autumn lessons and 15 spring lessons.
Instrument selection (in the order of registration)
french horn: 7-8 years old 
trombone 6-8 years old 
low brass (alto horn, baritone horn, tuba): 7-8 
woodwind coaching with recorder: 6-7 years old
clarinet: 7-9 years old, subject to front teeth up and down 
saxophone: 7-9 years old, subject to permanent front teeth up and down 
bassoon: 8-9 years old 
double bass: 6-8 years old
Most popular music ladder groups through student selections
Beginners who have participated in student selections/entrance exam can first be offered a place in one-year music ladder group. Groups are formed depending on the instruments needed, such as piano, guitar, accordion, kantele, strings and winds.
Climb the Music Ladders into the world of music.
Music Ladders groups 2023-24
Accordion
Group 1: Monday 17.30–18.00
teacher: Eero Nissinen
Group 2: Thursday 16.30–17.15
teacher: Elina Leskelä
Bassoon
Wednesday 17.00–17.30
teacher: Laura Clewer
Brass (althorn, baritone horn, tuba)
Tuesday 17.00–17.45
teacher: Mikko Marttila
Cello
Wednesday 16.15–17.00
teacher: Maija Alén
Clarinet
Thursday 17.30–18.30
teacher: Anni Björk
Double bass
Thursday 17.45–18.15
teacher: Taru Tiusanen
Guitar
Monday 17.30–18.30
teacher: Osmo Palmu
Kantele
Wednesday 16.30–17.15
teacher: Juulia Salo
Percussion
Friday 17.00–17.45
teacher: Petteri Kippo
Piano
Group 1: Wednesday 17.00–17.45
Group 2: Thursday 17.00–17.45
teacher: Rebekka Angervo
Group 3: Tuesday 17.00–17.45
Group 4: Tuesday 18.00–18.45
teacher: Adam Herd
Recorder
Tuesday 16.45–17.30
teacher: Sini Vahervuo
Saxophone
Thursday 17.30–18.30
teacher: Nanako Lammi
Trombone
Tuesday 17.30–18.15
teacher: Nadja Hanhilahti
Viola
Thursday 17.15–18.00
teacher: Johanna Paananen
Violin
Wednesday 17.00–17.45
teacher: Hanna Lipiäinen