Rhythmic training is a versatile group subject which focuses on rhythm. Aside from being a fun activity, the rhythmic training develops motor skills, concentration and coordination.
The groups are available for participants of the age of 6 to adults. The students of EMO may study rhythmic training as an optional class, which is included as part of their student fees. For students who only participate in the rhythmic training groups, the term fee ranges from 110 to 220 €, depending on the duration of the class.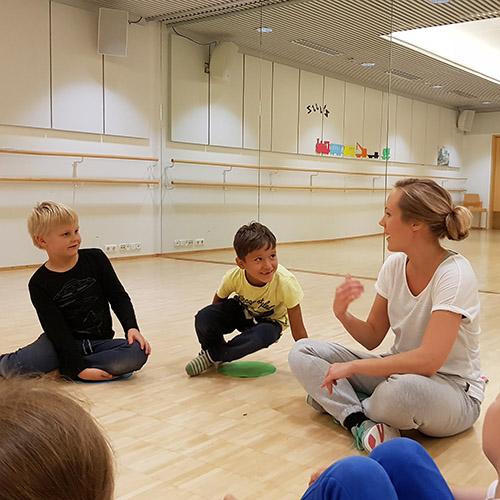 Group Chart for the Rhythmic Training
Preparatory groups in rhythmic training: 6-7 yrs, 45 min/week
Rhythmic training age groups: 7-9 yrs, 9-12 yrs and rhythmic training for the adults 45-60 min/week
Tremolo groups
Tremolo groups 1-4 are show groups in rhythmic training that accept members after auditions. The groups are formed according to the competence, skills and age (in some cases) of the participants. 75-90 min/week
Rhythmic training shows
Every autumn and spring the groups prepare at least one public show together where they present different rhythmic training performances with proper lights, costumes and choreographics. Tremolo groups have additional performances throughout the year. The top seasonal rhythmic shows take place in Tapiolasali or Louhisali in Espoo Cultural Center.
Rhythmic training provides musical experience and competence that form a good foundation for growth
Methods of Rhythmic Training
Rhythmic training is a holistic, multi-sensory activity that involves the whole body and all the senses. Rhythmic training combines music and movement. The wide range of exercises may be performed in many ways with many different tools. Rhythmic training provides easy access to music studies, and with its outstanding ability to develop motor skills, coordination, creativity and cooperation skills it is suitable for nearly everyone.
During the classes we practice a great deal of body percussion. We create the rhythm using our own body: clicking the fingers, clapping the hands, stamping with our legs and drumming our chests and thighs. Among other methods there are word rhythms, rhythmical games and plays, playing the instruments, moving around, listening to sounds, singing and creating original pieces.
The equipment we use include but are not limited to percussions, djembe and Taiko drums, boomwhackers, idiophones, non-instruments (mugs, buckets, etc.), hoops, balls and other exercise equipment.